There are two ways to advertise your business in the Louisiana Black Business Directory. The first way is print media advertisng. Print media consists of posters and mini-posters. Our posters are 12" X 18" full color posters and our mini posters are 4" X 6" full color flyers.  Each edition features ads from various black businesses throught an area. These posters are distributed through stores, libraries, schools, etc. Each directory prints once per quarter(4 times/year). 

The second way to advertise is through our website. Each company can purchase a profile page, a business listing, or both.  With a profile page a business can give a full description about the goods or services they provide.

Attention Business Owners: You Can Have Your Own Edition Of The Louisiana Black Business Directory.

Your business will be the featured ad and you can invite your collegues to advertise on your edition of the LBBD.

By having your own edition you will receive a rebate at the completion of your edition

Earn Extra Cash For Your Business!!!

 Empowering The Black Business Community!!!

Media Bundle

2X2 Ad on directory poster

Profile page on directory website

Price: $200

Media Plus

2X2 Ad on directory poster

Listing on directory website – 1 month

Price: $150

Simple Listing

Listing on directory website -1 month

Price: $40.00

Profile Page

Your profile page is full page one our site dedicated to your business. With your profile page you can describe your business, place pictures, menus, rates, etc. You will also receive on free update per month to make changes to your profile page.

Price: $50 setup/$50 month

Website Listing

With our web listing page your business will be listed under the appropriate category. Your listing will include your business name, address, phone, and website address.

Price: $45/per 3 months

Empowerment Pages

Advertise in the LABBD Magazine, The Empowerment Pages

Note: Profile page fee includes first month.

Please list all information that is to appear in your ad or listing.

I agree to advertise with the Louisiana Black Business Directory and understand that this is a contract that is to be paid in full.  Payment is due upon placing order.  There is a $35.00 NSF fee for any NSF checks or returned drafts.  If payment is not made advertiser will be responsible for 100% of any collection action fees. If advertiser agrees to participate in the "Black Card" discount card promotion, advertiser agrees to honor advertised discount for up to one full year; this year starts at the date of contract signing. All sales are final there are no refunds on purchased advertisement. By submitting this order I am also stating tha I am an authorized user of the credit card used for purchasing.

I would like to be a vendor in the Black Card discount card program.

Please email all pictures and additional ad information to info@louisianablackbusinessdirectory.com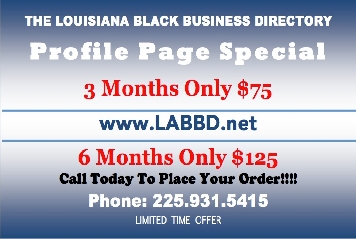 LABBD Poster 

The LABBD Poster is a 12x18 poster featuring African American owned businesses. We willl print 3000 of these poster and circulate htem throughout the local area. The first edition will service the Baton Rouge and surrounding areas.

Simple Poster Listing - 50.00